Lead Pastor at
Overflow Church
The Lead Pastor of Overflow Church is tasked with equipping the church to fulfill the calling of reaching all people by journeying together, passionately following Jesus, and joyfully serving others.
Denomination: A Water's Edge Network Church, Affiliated to The Wesleyan Church
Weekly Attendance: 250+
Location: Benton Harbor, Michigan
Meet the Water's Edge Network
Overflow Church belongs to a multi-church multi-site family called, The Water's Edge Network. Five years ago, as Central Wesleyan Church, of Holland, Michigan entered her 13th decade, the leadership launched a unique multi-church multi-site vision. Despite the chaos of the season we find ourselves navigating, our vision has led to the creation of the family of eleven congregations united together as a family of churches.

Overflow Church entered the Water's Edge Family through merger in 2018.
As a multi-site,
multi-church family
we are:
Localized: We are localized in our campuses. We have a meta-national mindset. Meta-national sets itself apart by means of a mindset that taps into localized knowledge and leadership.
Decentralized: We are decentralized in our leadership and ministries. Major decisions sit with the campus pastor rather than a single location.
Synchronized: We are synchronized in our mission and vision. We are also synchronized in seven essential processes and systems.
Diversified: We are diversified in our expression. While sharing a common corporate brand, at local levels, we practice a house of brands rather than a branded house approach.
Meet Overflow Church
Overflow's measure of success is serving as a church for all people and as valuable community asset in a deeply divided region. Overflow is a multi-ethnic (30-40% non-white), multi-generational, multi-economic class church. Overflow was planted in 2007 as a Wesleyan Church and joined the Water's Edge Network in 2018.

Pre-COVID, Overflow averaged 282 in weekend attendance with 65% of its people engaged in discipleship activities, and community outreach. Overflow's online presence, digital discipleship, giving, and community engagement has remained strong throughout the pandemic and the congregation is positioned for a bright future.
As a part of the Water's Edge Network, a unique multi-church multi-site family of churches, Overflow brings a heart for diversity, community development (Overflow served as the founder of Mosaic CCDA) and outreach to the network and Kingdom family.

Read more about the vision of Overflow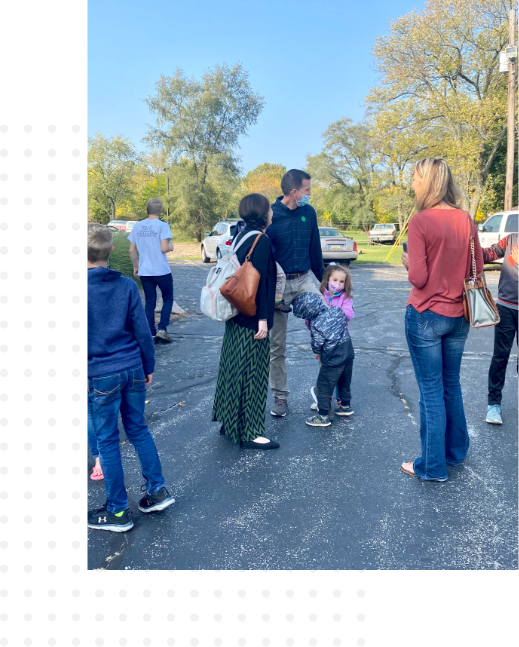 About the Lead Pastor
Make no mistake, while legally we may refer to the pastor of Overflow Church as a "campus pastor", in the local context this campus pastor is the lead pastor of the church they lead. At no point is the Lead Pastor of the Waster's Edge Network viewed as the Lead Pastor of any of our campuses.

The prospective Lead Pastor will be the prime weekend communicator (35-40 weekends is typical) while focusing their leadership on the following core responsibilities:
Listening to God
Shaping Culture
Communicating Biblical Truth (as the primary, but by developing a teaching team/rotation)
Casting Clear Vision
Developing Leaders
Connecting with the Community
What You Bring:
Education & Experience

An undergraduate degree is required. A Master's degree from an accredited Bible College or Seminary is preferred. A gifted communicator, relational leader, and team/leadership developer with experience in a diverse environment community and church/organization. Experience as a campus pastor and/or senior pastor for 3+ years preferred.
Personal Characteristics
A love for Jesus, a love for all people, and a love for God's word. The litmus test being that if you haven't read through the whole Bible, don't apply!
A shepherd's heart and a servant's humble nature. An authentic leader willing to address the uncomfortable with wisdom and discernment.
Committed to shepherding a Revelation 7:9 congregation, so the world would see we are one in Christ.
A commitment to excellence in teaching God's Word and a visionary who can see where we are, where we need to go, and is motivated to get Overflow Church there.
A commitment to team, exemplified through leading well, delegating responsibility and opportunity to others—not just in those things that they do not want to do.
A great coach who can help Overflow Church grow through extending timely challenges and developing the next generation of leaders.
Someone willing to straddle the tension between local leadership and apostolic leadership through our network family. ­­­
What it's like to live in
Benton Harbor, Michigan:
Benton Harbor is a community in Southwest Michigan on the shores of Lake Michigan.
Benton Harbor has a population of just under 10,000 people, 89% of the community is African-American with a median income of $20,157 and median home values of $56,200.
Benton Harbor is adjacent to St. Joseph. St. Joseph has a population of just over 8,000, 90% are Caucasian and there's a median income of approximately $55,000. The contrast between these two communities is clear and the opportunities for ministry obvious.
Overflow Church serves roughly 50% Benton Harbor, 40% St. Joseph, and 10% other surrounding communities. It's a church that has successfully crossed divides that many churches have not. Overflow Church is committed to bringing God's shalom to the region.
Think you are a great fit for this role?
Contact nikki@watersedge.org and ask for a Lead Pastor Description